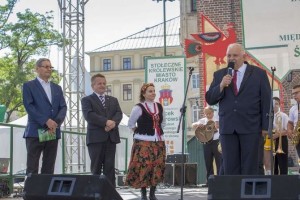 As in previoues years this year on the 22nd of August Natur-Vit could not be missed on the Krakow market. This year's event coincided with the celebration of the twentieth anniversary of the company. Festive yet playful atmosphere that accompanied us from the 14th of August moved to the XXXVII Folk Art Fairs in Krakow.
Procession around the market, live music performances of the music school students from Pińczów, a performance of the dance group from Michałów and children from Pińczów Local Government Cultural Centre are just some of the attractions prepared for the people who came in that day to the Krakow market. There were also competitions conducted by Mrs Aleksandra Imosa. The winners were awarded with the prices that were sponsored i.e. by Natur-Vit. It was enough to know the answers to the questions which concerned Pińczów and Ponidzie and the participants did not have problems with the answers.
Trade shows are important and fixed point in the calendar of the cultural highlight of the region. Great atmosphere is indescribable and surerly next year we can also be found on the Krakow market.
We are also commited to recieved thanks from the local government of Pińczów.
(fot.  Alicja Mazurek)
Źródło: http://www.echodnia.eu/apps/pbcs.dll/article?AID=/20150822/POWIAT0108/150829701